About the CNC
---
---
---
---
---

Havana from Space
---
---
Freedom Tour Report - Halifax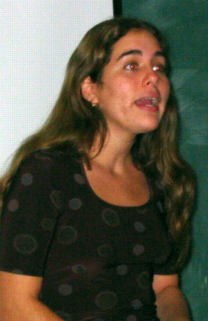 A small group of NSCUBA members greeted the three at the airport and from there Aleida, Irma and Mario were taken on a short tour through the Grand Pre Historic Site (where Acadians were expelled by the British in the mid-1700's), over the dykelands which were build by the Acadians and then to the coast of the Bay of Fundy for a short rest break. Lunch was held at Paddy's Pub in Wolfville where several NSCUBA members joined us.

At Acadia University, the theatre room holding approximately 250 was packed with people standing and also sitting in the aisles. This was amazing as due to the holiday weekend, many students had already left campus to go home. The crowd enthusiastically gave many standing ovations to both Irma and Aleida during their talks. I have never seen a crowd at Acadia before who so energized than those in this audience when Aleida spoke. It was so inspiring.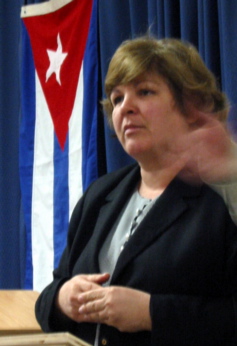 Barb, Jim and Constanza (mobile translator) herded our Cuban visitors into the van and headed to Halifax where a pot luck supper with NSCUBA members was waiting at the Fresh Start Bed and Breakfast. Accomodations were supplied by Innis and Sheila MacDonald who are avid NSCUBA members and superb hosts. Innis and Sheila survived Hurricane Juan but suffered quite a lot of damage to their trees and property yet opened their doors wide to provide an inviting atmosphere to our tour group.

At Dalhousie University, the place was packed again with approximately 300-350 people. Applause was loud and long for both Irma and Aleida. After Isaac Saney's introduction to the topic, a group of young Cuban teens who are on a Canada World Youth exchange program in Bridgewater sang three songs and read their own poetry to commemorate the anniversary of Che's death. Aleida was very moved by this. We heard not one nay sayer in Nova Scotia of all the people who were in the audiences.

These Cuban women were clearly admired and respected. Irma puts her case in support of her father and the other four compañeros so well and so bravely that she was an instant hit with the audience. Aleida spurred everyone on to get active in the release of the Cuban Five and in their support of Cuba against the terrorism of the United States. She was brilliant as she forcefully explained the great accomplishments of revolutionary Cuba such as health care, education, and other social achievements. And during the question and answer period, we learned a great deal about her relationship with her father and with Fidel.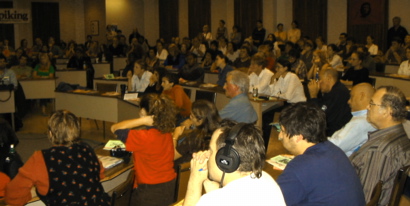 Special thanks for the Nova Scotia part of the tour go to Constanza Rojas and Dr. John Kirk for superb translation at Acadia and Dalhousie, Ruth and Nels Larson, Carole Woodhall, Isaac Saney, Mark Rushton, Tim Bood, Charles Spurr, and Beatrice Douglass who assisted in organizing the event in Halifax plus Ambrose who drove the trio back to the airport very early in the morning. In Wolfville, thanks also go to Rhonda Fraser and Jim Brittain for organizational back-up and the Acadia University Dean of Arts, Bruce Matthews for funding the Acadia event. Thanks also to Bryan Abernethy who loaned his van for the tour.

It was a jammed pack day for Aleida, Irma and Mario but what an impact! We should all be thankful this weekend for having enjoyed their presence and energy. This memory will linger a long time. Having a strong NSCUBA solidarity group and a Canada-wide network organization makes many things better!
¡Hasta la victoria siempre!
Barb Moore
Jim Sacouman
Grand Pre, Nova Scotia
---
Full Story | Tour schedule | Free the Five info | Photo Gallery

Media Coverage of the Tour:


Post-Event Reports


---

CPAC - The Canadian Parliamentary Channel - interviewed Irma González on Thursday, October 2nd. The interview was broadcast at 7:00pm EST and repeated in the following days. Visit www.cpac.ca to find or request a repeat in your area.
---
More information on the Cuba Five can be found on this page.
back to: Documents index | Cuba Five