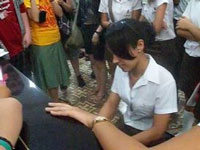 A visit to the School of Musical Arts. This video clip is the impromptu jam session between students and briadistas following the formal student performance. — at City of Holguin, Cuba.
"I have been on the Che Guevara Brigade for the past 3 summers. The volunteer work is always an important highlight of the trip. It is great to work beside our Cuban friends and learn about their culture and proud history. I also learn about their struggle against the US economic blockade which I think is inhuman and unjust. My absolute favorite part of the brigade is the dance lessons, every year I improve on my salsa skills!"
"I think the Brigade is a good opportunity to develop a lived experience of Cuba and its people! The ability to share day-to-day life with the Cuban people, through Brigade volunteer work and cultural activities, increased my understandings and sensibilities about the country. I thoroughly enjoyed learning what it means to be Cuban, and I would recommend the 2009 Brigade to anyone!"
"First off the brigade is simply amazing! The Ernesto Che Guevara Brigade provided me with an opportunity to witness the Cuban reality first hand. The 2007 program was jam packed with solidarity activities; such as rebuilding a school, picking mangoes, working in an organoponic, as well as tours to various political, cultural, and historical sights. In three short weeks I left Cuba yearning for more Cuban hospitality. Anyone wanting to travel to Cuba in search of more than mojito's and palm fringed beaches should not let this awesome experience pass them by."
"The brigade really is an excellent opportunity to learn more about Cuba, its people, it's rich history and culture. I went on the brigade in 2007, and helped in the construction of a school for the blind in the province of Ciego de Avila. Working alongside Cuban students, and visiting hospitals, political and cultural institutions, brought experiences that a regular visitor would never see, and brought a greater understanding of why the Cuban people have been able to defy the odds for the last 50 years."