Dave Thomas
National Coordinator
chevolbrigade@gmail.com
905-382-3468
---



The Che Guevara Volunteer Work Brigade is a project of the
Canadian Network on Cuba

We're on Facebook
---
"El trabajo voluntario es una escuela creadora de conciencia"
"Volunteer work is a school for building consciousness"
~ Ernesto Che Guevara

Hurry and register for the 2013 Brigade!
Departing April 24th, returning May 15th. Cost only - $1,175 Cdn PLUS return airfare from your province.

The cost of the Ernesto Che Guevara Volunteer Work Brigade includes:
Travel services of Judy Gallant's, TICO registered, P & G Travel
All taxes and fees
Commemorative T-shirt
All accommodation, meals, excursions and transportation in Cuba
English translation for all programmed activities
Not included in the price:
Return Airfare your province to Cuba
All personal expenses (snacks, bottled water, phone, internet, etc.)
Cuba Airport Tax (25.00 CUC – Cuban convertible pesos)
Travel insurance
Optional activities not in the program
Extended stay can also be arranged at extra cost.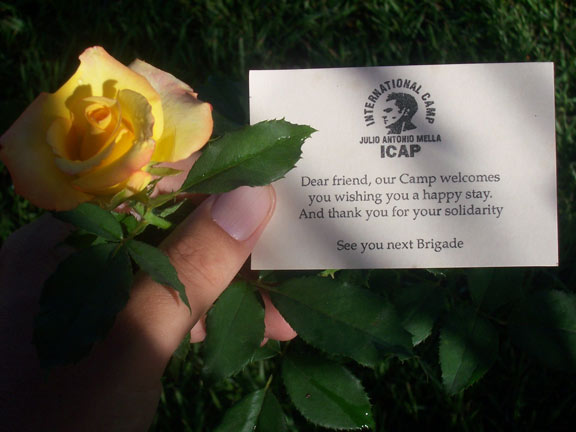 ---
Flight Itinerary & Visas
Brigadistas generally depart as a group from Toronto.
A visitor's visa is required to enter Cuba, it is included in the Che Brigade cost.


---
Your Luggage
Before closing your luggage, make sure it is labeled inside and out. Leave a telephone contact number in Canada inside your suitcase, a sticker or label is a good idea. Occasionally, luggage does get lost. The airline luggage limit is usually two bags of 25 kg each per passenger. If you think you'll be close to the limit, phone the travel agent and ask. We strongly recommend that you bring only one piece of luggage—we try to provide a second small suitcase of medical or other supplies for each brigadista to bring as our collective donation.


---
Money
In Cuba, two types of currencies are used: Cuban Pesos (Moneda Nacional – MN) and Cuban Convertible Pesos (CUC). As a result of opening to international tourism early in the '90s, the tourist sector increased heavily and many services flourished in convertible pesos only.

Take Canadian dollars only. Take small denominations of cash ($20 bills), it is sometimes difficult to obtain change from large denomination notes. You may also take VISA & MASTERCARD credit cards issued by a Canadian bank, not a branch of an American bank (some MC issued by Canadian Credit Unions may not be accepted; check with your credit union).

Do not change money on the streets! All tourists can change CAD into CUC at the airport, at hotels, banks, and exchange offices called "CADECA". You can change back your CUC into CAD before leaving Cuba. Since most expenses are covered take the amount of money you think you will need for your personal expenses.

You will not need to change CUC into Cuban pesos (MN). However, you may find it convenient to do so, since there are a lot of street vendors and shops that sell in MN (pizza, sandwich, milkshake, fruits, souvenirs, etc.).


---
Accommodation
Every year the Che Brigade visits a new host city and stays in different types of accommodation. Accommodation in the host city varies every year from small hotels, to university dorms. Our Cuban hosts always do a wonderful job of making everyone feel welcome no matter where we stay.

When the program moves to Havana, the Che Brigade usually stays at the Julio Antonio Mella International Camp (CIJAM), about 40 km from Havana. CIJAM's amenities include medical and emergency dental services (provided free of charge); a dining hall provides all meals (vegetarian diet can be arranged); post office, tourist shop, coffee-bar, sports field, conference hall with simultaneous translation facilities, games room and TV room. The nearest village to the camp is Guayabal.


---
Contact in Cuba
Our contact in Cuba is the Cuban Institute for Friendship with the Peoples or Instituto Cubano de Amistad con los Pueblos (ICAP), with offices in Havana and every province throughout Cuba. This organization has four decades of experience acting as host to work/study tour groups; it is also a good contact for Canadians in Cuba in an emergency. More local contact information will be provided when you are closer to departure.

ICAP Canada Desk: Esperanza Luzbert: canada@icap.cu and Sandra Ramirez: canada.anglofono@icap.cu

Calle 19 No. 306 e/ H e I,
Vedado, Ciudad Habana,
CUBA

(011-53-7) 838-2414 or 838-2415
or 838-2416 or 838-2421

Julio Antonio Mella International Camp (CIJAM): cijam@icap.cu
Phone: (001-53-4) 731 5900