Visiting Cuba
"For me the word Cuba means the people of a new world coming of age, realizing their potential and the necessity to affirm themselves. Cuba means finding solutions to the problems facing the people under all circumstances and never giving up or succumbing to difficulties...

Cuba and the world are living through a most dangerous and complicated period. The word Cuba means the striving to open the door for the further development of the society on the chosen path. Cuba, it can be said without fear of exageration, is a microcosm of the world emerging out of the conditions of the bipolar division, struggling to affirm itself at the present time. Cuba connotes the overcoming of the adverse consequences of the past, while making some concessions which can assist to lift itself up in the present. Cuba is the history and the museum of the opening of the new world, and its highest development, the showpiece and the conscience of Latin America and the Caribbean."
Hardial Bains
---
En Visite à Cuba
"Pour moi le mot Cuba signifie peuple d'un monde nouveau, d'un monde en éveil qui voit la nécessité de s'affirmer. Cuba signifie trouver des solutions aux problèmes du peuple et ne jamais abandonner, ne jamais succomber aux difficultés...

Cuba et le monde passent à travers une période dangereuse et complexe. Cuba sifnifie tout mettre en oeuvre pour ouvrir la porte au progrès de la société dans la voie choisie. Cuba est dans tous les sens un microcosme du monde sortant de la division bipolaire, luttant pour s'affirmer dans les conditions d'aujourd'hui. Cuba traduit l'effort pour surmonter les conséquences du passé tout en faisant certaines concessions qui permettent de s'élever à la hauteur du présent. Cuba est l'histoire et le musée de l'ouverture d'un monde nouveau, le joyau dans la conscience de l'Amérique latine et des Antilles."
Hardial Bains
---
Visitar a Cuba
"Para mí la palabra Cuba significa el pueblo de un nuevo mundo haciéndose mayor de edad, reconociendo su potencialidad y la necesidad de reafirmarse a sí mismo. Cuba significa hallar soluciones a los problemas que enfrenta el pueblo en cualquier circunstancia y nunca descansar o rendirse a las dificultades...

Cuba y el mundo están sobreviviendo en período muy peligroso y complicado. La palabra Cuba significa esforzarse para hacer posible la apertura de la puerta al desarrollo futuro de la sociedad por el camino elegido. Cuba, puede decirse sin temor a exagerar, es un microcosmos del mundo que emerge de las condiciones de una división bipolar, luchando por afirmarse él mismo en el tiempo presente. Cuba muestra cómo sobreponerse a las adversas consequencias del pasado, a la vez que hace algunas concesiones que puedan ayudar a que se levante en el presente. Cuba es la historia y el museo de la apertura del nuevo mundo y su más alto desarrollo, la muestra y la conciencia de América Latina y el Caribe."
Hardial Bains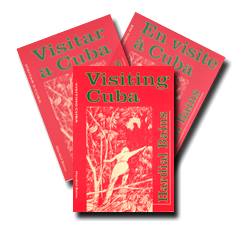 Dedicated to all those who fight for the cause of the downtrodden, facing up to all the challenges with that courage, dignity and intelligence which blossom on the basis of fidelity to principle.
---
ORDERING INFORMATION
New Magazing Publishing Company
P.O. Box 390, Station A
Ottawa, Ontario, K1N 8V4
Printed in Canada