Cuban Chancellor Receives President of the
Canadian International Development Agency
Expansion of programs of collaboration announced.
Mariela Pérez Valenzuela
(translation: Mark Rushton)
Granma: 3 December 2002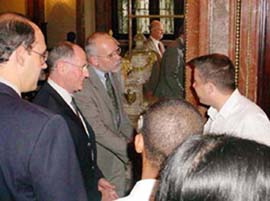 Cuba's Minister of Foreign Relations, Felipe Pérez Roque, met early yesterday morning with Len Good, president of the Canadian International Development Agency (CIDA).
During the conversation at the Chancellor's office, Good announced the expansion of collaboration programs which will increase in number to 67 and said that he has a very good impression of the progress of those agreements.
Good presided over the annual meeting of the representatives of CIDA's branch offices in Latin American and Caribbean countries, which began yesterday in La Habana and runs until the following Saturday.
New steps forward in the strengthening of relations will come this Monday, with the signing of a Contribution Agreement for 1.2 million dollars (Canadian), with the aim to develop a project aimed at improving Cuba's forestry services capacities in the areas of planning, coordination, supervision, operation and control of forestry resources, and to promote sustainable management.
This project was created under the bilateral program that was developed between Cuba and Canada with the support of CIDA.
The agreement was approved by the President of that Canadian agency and the Minister of Foreign Investment and Cooperation of Cuba, Marta Lomas.
The relationship of collaboration between the two countries has resulted in a notable development during the 1990s in sectors of particular importance to Cuba and Canada, such as Health, Education, Macroeconomics, Agriculture, Nutritional Security and Environment.
back to Canadian Government